First...
Make sure you take a few minutes and read this GREAT piece by
@terryblaw
on the pending Crossfire v USSF Training Compensation and Solidarity Payment case with FIFA.
Despite developing numerous players who would entitle them to training compensation, solidarity or both, no United States youth club has ever received these payments.

Domestically, U.S. Soccer has refused to enforce either rule and, allegedly, has pressured youth clubs to decline any payments from foreign clubs.

But recently, youth clubs have begun to push back.
READ THE ENTIRE ARTICLE HERE
Second...
With Copa America going on right now and the regularly scheduled pre-USMNT game
#FireKlinsmann
banter from our more MLS centric sports writers and fans we come across this very solid read "
Targeted Allocation: Jurgen Klinsmann is not the problem" on FourFourTwo from Graham Parker.
As many of us know... the entire US soccer system is the problem and this lays it out really well.
Third...
This is a wonderful read on the huge hurdles on the development of young players in the United States by Les Carpenter in the Guardian.
The talents of some of America's best young players are being suffocated by a process that never lets them be seen. He sighs.
"People don't want to talk about it," he says.
Andreassen used to dance gingerly around the topic, using the same careful code words as the other coaches and heads of leagues, trying not to push or offend only to find that little changed. He has stopped being political. He is frustrated. He is passionate. He is blunt.
"The system is not working for the underserved community," he says. "It's working for the white kids."
READ THE ENTIRE ARTICLE HERE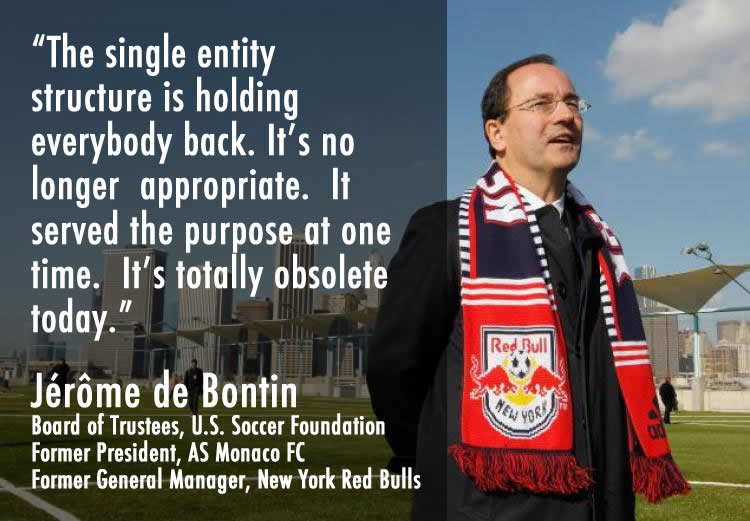 Finally a very good interview of Jerome deBontin by Paul Scanling on the Gorilla Talk podcast... as you can guess from the image above Mr. deBontin comes out and says exactly what he thinks.